Examples of Age Discrimination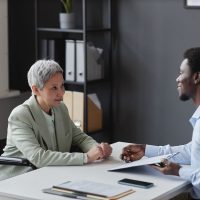 Age discrimination is an insidious issue that persists in today's workplaces. Despite robust legal frameworks like the Age Discrimination in Employment Act (ADEA) and the California Fair Employment and Housing Act (FEHA), many older employees and job applicants continue to experience unfair treatment due to their age. Below we provide some examples of actions that might be considered unlawful age discrimination. If you believe you've been the subject of illegal discrimination at work based on your age as an employee or job applicant, contact an experienced California employment law attorney to discuss your potential claim and next steps.
Understanding Age Discrimination
Age discrimination involves treating an older individual less favorably due to their age. Under the ADEA, it is unlawful to discriminate against a person who is 40 or older. The ADEA protects employees and job applicants from discrimination in any aspect of employment, including hiring, firing, pay, job assignments, promotions, layoff, training, benefits, and any other term or condition of employment.
In California, FEHA offers additional protection to employees and job applicants. Like the ADEA, FEHA outlaws age discrimination for individuals 40 or older. However, whereas ADEA applies to employers with 20 or more employees, FEHA is applicable to companies that employ five or more people. FEHA extends to all employment practices and protects independent contractors as well.
Age Discrimination Examples
Age discrimination can take on many forms and occur at any phase of the employment process. Below are some of the most common examples of age discrimination in employment.
Discriminatory Job Advertisements: If a job posting explicitly states or insinuates a preference for younger candidates—such as "new or recent graduates," "young and energetic," or "digital natives"—this could be considered age discrimination.
Unfair Layoffs or Reductions: Companies often justify layoffs or reductions in force as cost-saving measures. However, if older employees are disproportionately targeted or if the company subsequently hires younger employees for similar positions, these actions might constitute age discrimination.
Differential Treatment: Treating older employees differently in terms of assignments, promotions, training opportunities, or benefits is a common form of age discrimination. An example could be consistently assigning older workers to less desirable projects or denying them training opportunities offered to younger colleagues.
Age-Based Harassment: Persistent jokes or derogatory comments about an individual's age that create a hostile work environment can be considered a form of age discrimination.
Early Retirement Pressures: Employers cannot force an employee to take early retirement due to their age. If an employer creates conditions that make continued employment unbearable for an older worker, leading them to "voluntarily retire," such an action could be seen as discriminatory.
Age-Based Assumptions: Decisions based on age stereotypes, such as assuming an older worker is not tech-savvy, lacks energy, or is close to retirement and therefore not worth investing in, can also lead to discriminatory practices.
Know Your Rights and Get Legal Help as Needed
Age discrimination can be subtle and often goes unnoticed or unreported. Therefore, it's vital for employees and job applicants to understand what constitutes age discrimination and know their rights under the ADEA and FEHA. If you suspect that you have been a victim of age discrimination, consider seeking legal guidance.
As an experienced San Francisco Bay Area Labor and Employment Law Attorney, Richard Koss is well-versed in these complexities and stands ready to help you navigate the legal terrain. Remember, you have the right to work in an environment free from age discrimination, and it's never too late to stand up for your rights. For help in the Bay Area, call attorney Richard Koss at 650-722-7046 on the San Francisco Peninsula or 925-757-1700 in the East Bay.