Amazon Faces Multiple Lawsuits Alleging Pregnancy Discrimination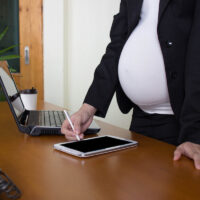 Amazon is one of the largest employers in the U.S. and globally, tallying over 647,500 employees worldwide as of 2018. Regardless of its size, Amazon, like any other employer in the U.S., must comply with all labor and anti-discrimination laws nationally and within each state. A series of lawsuits alleges that Amazon's U.S. warehouses have failed to comply with laws and regulations concerning accommodation for pregnant workers. Continue reading for details about the allegations of pregnancy-based discrimination against Amazon, and contact an experienced California labor and employment lawyer with any questions.
Seven Lawsuits Allege Amazon Warehouses Discriminated Based on Pregnancy
The Pregnancy Discrimination Act of 1978 (PDA) amended Title VII of the Civil Rights Act of 1964 to prohibit sex discrimination in the workplace on the basis of pregnancy. The PDA includes mandatory pregnancy and maternity leave, as well as setting certain hiring and workplace conditions that employers must follow. A worker cannot be fired or turned down for a position based on pregnancy as long as she is able to perform the major functions of her job. Employers must also make reasonable accommodations for pregnant women in the workplace.
According to an investigation by CNET, tech giant Amazon has faced at least seven lawsuits from pregnant women over the last eight years alleging failure of accommodation and unlawful termination. The women were Amazon warehouse workers who claim that Amazon warehouse managers were unwilling to accommodate their needs. The women allege that they made various requests for accommodations during their employment based on their pregnancies, including fewer continuous hours on their feet and longer bathroom breaks, and that these requests were denied. In all of the lawsuits, the women claim they were fired after telling their managers they were pregnant.
The lawsuits allege that Amazon zealously monitors employee time, including strict limits on "time off task" including bathroom breaks. If a worker has not packed a box in five minutes, software will send their supervisor an automatic notice, who will then come to investigate.
One worker related an incident in which she was confronted by her boss for taking longer bathroom breaks, claiming her manager told her that "being pregnant is no excuse for being late." Another claimed her doctor advised her to take three days off work after getting the flu while pregnant, but that her manager told her Amazon "does not accept doctor's notes." She was fired four days later. A third woman told her managers she could not lift up heavy items or perform work requiring extensive physicality; her requests were ignored and she was later fired after calling in sick due to a high fever.
Six of the lawsuits have settled out of court. Amazon denies any wrongdoing, claiming it would never fire anyone for being pregnant and that its policies accommodate pregnant employees.
If you are a San Francisco employer or employee needing personal assistance navigating the current rules on discrimination, revising company policies or pursuing a discrimination claim, contact the Richard Koss Bay Area employment law attorneys at 650-722-7046 on the San Francisco Peninsula, or 925-757-1700 in the East Bay.