California Legislature Passes Bill Banning Employer Arbitration Agreements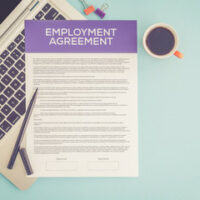 The California Senate just passed a bill, AB 3080, that prohibits employers from requiring workers to enter into arbitration agreements as a condition of employment. AB 3080 now awaits Governor Brown's signature. The bill, if signed, could affect millions of California workers: A recent study from the Economic Policy Institute found that over 67% of California's non-union, private-sector workplaces have mandatory arbitration agreements. Read on to learn about the new law designed to protect employees, and contact a knowledgeable California labor and employment lawyer with questions about how this law could affect you or your organization.
Arbitration agreements favor employers by preventing class actions
Many employers require that employee contracts include mandatory arbitration agreements, which require that any legal dispute between worker and employer be resolved through arbitration. Arbitration is a process that often favors the party with more financial resources, in particular because there cannot be any class actions in arbitration. So, if many employees of the same company allege similar illegal treatment, for example, wage and hour claims, they can no longer come together as a class to bring a lawsuit, and instead must each enter separate arbitration proceedings with the company.
Following Supreme Court decisions that have protected such agreements for employers and for consumer contracts, employers have increasingly included arbitration agreements as required elements of employment.
Effects of AB 3080
AB 3080 aims at protecting employees with legitimate claims of harassment, discrimination, or other unfair treatment. The bill prevents employers from requiring employees to "waive any right, forum, or procedure for a violation of any provision of the California Fair Employment and Housing Act (FEHA)." Namely, employers cannot require employees to sign arbitration agreements that would waive lawsuit rights and mandate arbitration for claims of, for example, harassment, wage and hour violations, discrimination, or retaliation. Employers would be prohibited from retaliating against employees who refuse to sign such arbitration agreements.
AB 3080 also bars confidentiality agreements regarding harassment in the workplace, or otherwise preventing any employee from reporting or participating in an investigation regarding alleged harassment. It is unclear whether this will affect employers' ability to settle harassment claims with plaintiffs on condition of confidentiality.
The bill prevents any person from performing these acts and holds that any violation is a misdemeanor, opening the possibility of individual liability for managers or other individuals who violate the new provisions.
The bill still faces an uphill battle
Governor Brown vetoed a similar bill in 2015, AB 465, which would have prevented employers from conditioning employment on signing mandatory arbitration agreements. Additionally, even if signed, the bill will likely face immediate legal challenges based on recent Supreme Court precedent that endorses the use of arbitration agreements pursuant to the Federal Arbitration Act.
If you're a California employee who has been the victim of harassment, discrimination, or unfair treatment in the workplace, or an employer in need of skilled legal guidance, contact the Bay Area offices of employment law attorneys Richard Koss and Rand Stephens for a consultation, in Antioch at 925-757-1700, or in Redwood City at 650-722-7046.