Can an Employer Require Me to Sign a Duty Meal Waiver?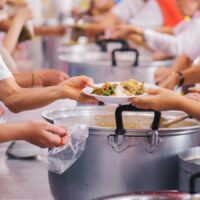 California law guarantees workers certain benefits, including meal breaks every so often. Many employers, however, prefer to have workers remain on-site and at least partially attentive during their meal breaks. Having an employee stay on-site during their meal break allows the employer to, for example, avoid hiring a second person for the shift. Can your employer require you to stay on-site during your meal break? Can they require you to stay on duty while eating? Continue reading for a discussion of meal requirements and the rules concerning waivers, and reach out to a seasoned California labor & employment attorney with any questions or for help with an employment-related matter.
California Meal Break Requirements
California law requires employers to give employees at least one 30 minute meal break for every five hours of work in a given day. That means an employee who works for more than five hours in a day must be given at least one half-hour break, and an employee who works for more than ten hours must be given two such breaks during the workday. Employers and employees can agree, however, to waive the meal break if the employee only works six hours (agree to give up the meal break) or 12 hours (agree to only one meal break). In general, these agreements must be in writing, and employees can revoke the meal period waiver at any time.
The meal break may be considered "on duty" or off-duty. A meal break will be considered on duty unless the employee is relieved of all work duty for the entire 30-minute period. On duty-meal breaks must be counted toward hours worked and compensated at the normal rate of pay. On-duty meal breaks are only permitted when the nature of the work prevents the employee from being relieved of all duty and the employer and employer enter a written agreement to utilize on-duty meals. All other employees must be given a proper off-duty meal break, although they need not be compensated for meal break time.
Duty Waivers and On-Site Meals
If the nature of your work is such that you cannot be relieved of all of your work duties during your meal break, then you and your employer can agree in writing to on-duty meal periods. As noted, you must be compensated for on-duty meal time. On-duty meal agreements are only allowed if the nature of your work objectively requires you to remain at least partially on-duty at all times. For example, you might need to remain at least partially on-duty at all times if you are the sole worker at a coffee kiosk or late-night convenience store shift, or if you are the lone security guard at a remote station. In those examples, the job requires you to be present and still somewhat on duty, even during your meal breaks.
Your employer can require you to agree to on-duty meals if the job so requires. But those waivers are only permissible where the nature of the work objectively prevents you from being relieved of all duty. The exception to the general rule requiring off-duty meals is meant to be narrowly construed and should default in favor of disallowing on-duty meals.
Additionally, your employer can require you to remain on the premises to eat your meal, even though you are relieved of all work duties. If you are required to eat on-site, however: (a) there must be a suitable place to eat (such as a cafeteria or break room with a microwave and refrigerator); and (b) you must be paid for your meal period.
If you are a San Francisco employee or employer in need of advice or representation concerning wage & hour violations, non-compete agreements, retaliation, whistleblower protections, workplace discrimination, or other California labor law issues, contact the Richard Koss Bay Area employment law attorneys at 650-722-7046 on the San Francisco Peninsula, or 925-757-1700 in the East Bay.