Coronavirus Paid Leave Requirements in California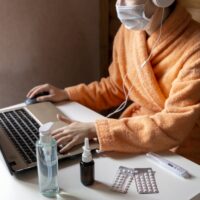 As many businesses face significant losses and the economy struggles due to the coronavirus pandemic, many individual employees find themselves unable to go to work either due to active sickness or out of caution to avoid exposure and viral spread. The federal government has been moving slowly but surely towards protecting workers and businesses during this crisis. The law is changing by the day in response to the evolving situation, and it is important for employers and employees to stay up-to-date in order to protect themselves and their livelihood. Continue reading for employee rights and employer obligations concerning employee leave during the coronavirus pandemic, and call a knowledgeable California employment law attorney for help with an employment-related matter.
Changes to federal law
The Families First Coronavirus Response Act (FFCRA), effective April 1, amended the Family and Medical Leave Act (FMLA). The FFCRA requires employers to add coronavirus-related illnesses to their list of qualifying reasons for FMLA leave. Employers must provide partial paid leave for COVID-related illnesses. The FMLA applies to employers with 50 or more employees.
The FFCRA authorizes two weeks of paid sick leave at full pay for employees unable to work or telework due to being under a quarantine order or advised toself-quarantine.Two weeks of paid leave at two-thirds pay is available if an employee is unable to work or telework because they need to care for a family member under quarantine or care for their children after a school or daycare closure triggered by governmental order. Qualifying employees can take up to 12 weeks FMLA leave, with job protection and partial pay, until December 31, 2020.
Pursuant to the Emergency Paid Sick Leave Act (Sick Leave Act), full-time employees are guaranteed 80 hours of paid sick time for full-time employees, while part-timers are guaranteed their 2-week average hours worked. Leave is available in the following circumstances:
● Employee is subject to an isolation order
● Employee has been advised by a doctor to self-quarantine
● Employee has symptoms of coronavirus and is seeking a diagnosis
● Employee must care for a person subject to quarantine
● Employee must care for a child due to school or daycare closure
● Employee is experiencing "any other substantially similar condition specified by" the Secretary of Health and Human Services
California law
California's paid sick leave law requires employers to honor an employee's accrued paid sick leave for treatment of an existing condition or preventative care for the employee or a close family member. Preventative care includes self-quarantine as a result of potential exposure to COVID-19.
Employers who retaliate against employees for exercising their rights during the coronavirus pandemic might be subject to retaliation or workplace discrimination claims. Employers are likely not liable if they choose to terminate an at-will employee purely for financial reasons relating to revenue lost due to the economic downturn. It could be difficult to distinguish the two, however, and a court battle might ensue. Employers who make immigration-related threats to employees who exercise their rights under the laws are committing unlawful retaliation.
If you are a San Francisco employee or employer in need of advice or representation concerning retaliation, workplace discrimination, or other California labor law issues, contact the Richard Koss Bay Area employment law attorneys at 650-722-7046 on the San Francisco Peninsula, or 925-757-1700 in the East Bay.