San Francisco Family and Medical Leave Lawyer Serving the Bay Area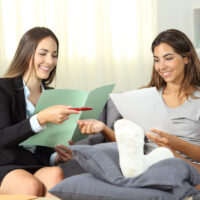 Sometimes workers need to take a leave of absence for unforeseen circumstances. California state law and federal law both guarantee workers the right to take leave from employment for certain medical conditions and to care for newborn children. While U.S. paternity, maternity, and medical leave laws lag far behind many other western democracies, California workers are still guaranteed significant leave when the need arises. Employers cannot refuse such leave and are not permitted to retaliate against employees for exercising their right to such leave. If you need to take leave, your employer must hold your job open for you until you get back.
The Bay Area Employment Lawyers Rand L. Stephens and Richard N. Koss fight for workers' rights in California. Rand L. Stephens and Richard N. Koss have years of experience ensuring that their clients are granted the leave they are owed under California state and federal law and that they are not unlawfully retaliated against for exercising their legal rights.
Federal Law – Family and Medical Leave Act
The federal Family and Medical Leave Act (FMLA) guarantees employees of covered businesses the right to take unpaid leave for certain medical conditions. Generally, the FMLA guarantees workers 12 weeks of unpaid leave within a 12-month period for the following:
Childbirth
Taking care of a newborn baby under one year old
Taking care of a new foster or adopted child, within one year of the new placement
Taking care of a spouse, child, or parent who has a serious medical condition
Taking care of the employee's own ailing health, if the employee has a serious medical condition that disables him or her from working
Taking care of certain necessities when a military family member is on active duty
The FMLA also guarantees workers 26 weeks of unpaid leave within a 12-month period in order to take care of a spouse, child, parent, or next of kin (under the worker's legal custody) who is a covered military service member who suffers from an injury or illness. Note that "parents" do not include in-laws.
Employees need not specify that they need FMLA (or CFRA, see below) leave, but instead need only state that they or someone else have a serious health condition that will incapacitate them from work. Employers can request, in writing, a doctor's note that indicates the severity of the condition and probable duration, and they may demand a second opinion from a physician of their choosing (and that they pay for).
State Law – California Family Rights Act
The California Family Rights Act (CFRA) of 1993 is a California state law that gives certain employees the right to take family care or medical leave without suffering adverse employment consequences. Like the FMLA, the CFRA grants most employees up to 12 weeks of unpaid leave to care for their own health problems, to take care of a newborn or foster child, or to take care of a family member with a serious medical condition.
There are a few differences between the CFRA and the FMLA. The CFRA also guarantees 12 weeks leave to take care of domestic partners, who are not covered under the federal law. Now that same-sex marriage is recognized nationally, the FMLA does cover spouses, however, regardless of whether they are same-sex couples or opposite-sex couples.
The FMLA is more expansive for pregnancy-related issues: Pregnancy and complications relating to pregnancy may qualify as "serious medical conditions" under the FMLA, but they do not qualify under the CFRA. On the other hand, employers are not permitted to ask for the diagnosis, treatment, or other medical facts supporting an employee's request for leave under the CFRA, unlike under the FMLA. The employer can still, however, request and pay for a physician to examine the employee to get a second opinion before granting leave.
Under either law, a worker who takes protected leave must be given the same or a substantially similar position upon returning to work. The employee cannot be demoted or fired as a result of taking leave, and cannot suffer a loss of seniority. If your employer violates any of these rules, a California employment lawyer can help you recover for any damages you suffer as a result.
Contact a Family and Medical Leave Attorney in California Today
If you have been denied your maternity or medical leave rights by your employer or suffered retaliation as a result of exercising your rights as an employee, you may have a legal claim against your employer. Call the experienced Bay Area Employment and FMLA lawyers Rand L. Stephens and Richard N. Koss today for a consultation.