What to Look For in an NDA / Confidentiality Agreement in CA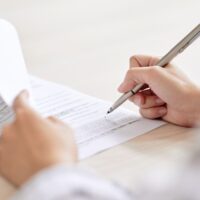 Many employers require employees to sign confidentiality agreements or non-disclosure agreements (NDAs) when they interview for a position or before signing on as an employee. These NDAs can protect employers from an employee using confidential company information to help a competitor or otherwise harm the company's financial interests. NDAs and other agreements that restrict the behavior of employees should always be carefully drafted and carefully reviewed to avoid overstepping. Continue reading for tips on what to look out for in a work-related NDA and which types of confidentiality provisions are not permitted. Talk to a seasoned California employment contract and workplace harassment lawyer with any questions or for help with an employment-related matter.
NDAs and Terms to Keep in Mind
Employers often require prospective employees to sign non-disclosure or confidentiality agreements as a condition of employment, particularly when the employee is likely to encounter sensitive non-public information. Tech companies and other businesses that depend on confidential intellectual property such as patents to survive routinely require employees to keep all confidential information private, even after they leave the company. NDAs may also cover private company information like a company's financials, customer lists, business strategies, future products and services, or other useful business information.
Confidential agreements should specify certain information in order to avoid being overbroad. Employees should carefully review any NDA or confidentiality agreement before signing, and employers should avoid any overbroad provisions that might be considered unconscionable in court. Factors that should be addressed in NDAs include:
The specific type of information covered by the NDA
The period of time for which the information must be kept secret
Non-compete provision, even though non-competes are almost never permitted in California, and even if intended to prevent the use of confidential information.
Monetary penalties for violating the NDA
Provisions addressing the confidentiality of products, services, or ideas conceived of by the employee while they were employed by the company
Arbitration requirements or other waivers of legal rights in the event of a breach
Agreements that do not include the relevant time periods are more likely to be tossed out in court. Provisions that specify extreme financial penalties for violations that are not tied to the actual damages caused to the company (often called "liquidated damages" provisions) may or may not hold up, but any prospective employee should take special notice of such provisions. Employees should also take care not to sign anything that would harm their ability to take a job with another company after leaving this employer, even though non-compete agreements are, with very few exceptions, not permitted in California. If they do agree to a non-compete provision, the time frame and the breadth of the non-compete should be narrowly circumscribed (e.g., limited in time to a year or two, and limited to direct competitors and positions in the same practice area under which the employee may have obtained useful confidential information).
We strongly suggest you do not sign any legal document with your employer without consulting an employment attorney first.
Confidentiality and Workplace Harassment
With the expansion of the "me too" movement, many states began enacting laws limiting the types of NDAs and confidentiality agreements that can be enforced in the workplace. In California, employers cannot require employees to sign an agreement that would bar them from reporting information about unlawful acts in the workplace, including sexual harassment and discrimination. Moreover, no provision in a contract or agreement (including a settlement agreement) that waives a party's right to testify in a legal proceeding about alleged criminal conduct or sexual harassment will be enforceable.
A separate law prohibits settlement agreements from including confidentiality provisions that would prevent employees from discussing harassment, discrimination, or retaliation, but permits claimants to request that their own identity remain confidential throughout and after a legal proceeding. The law applies to settlements involving claims filed in court or administrative actions, but it would not cover pre-litigation settlements.
If you are a San Francisco employee or employer in need of advice or representation concerning harassment, retaliation, whistleblower protections, workplace discrimination, or other California labor law issues, contact the Richard Koss Bay Area employment law attorneys at 650-722-7046 on the San Francisco Peninsula, or 925-757-1700 in the East Bay.