Outsourcing Labor No Longer Protects California Employers from Wage Violations or Workers' Compensation Requirements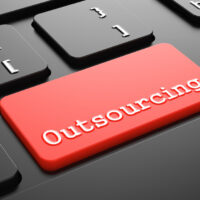 At the start of the year, AB 1897 went into effect. This law amends California Labor Code section 2810 by adding a new section 2810.3 to the law. The crux of this law is found at 2810.3(b), which states:
A client employer shall share with a labor contractor all civil legal responsibility and civil liability for all workers supplied by that labor contractor for both of the following:
The payment of wages.
Failure to secure valid workers' compensation coverage as required by Section 3700.
In other words, if you contract with or outsource a portion of your labor to another company, and that company does not pay wages or obtain workers' compensation insurance as it should, you could be liable along with the contracting company for wage violations or failure to secure workers' compensation coverage.
Even before the passage of the new law, you could be held liable for violations of the labor contractor, but only if the worker could prove the existence of a joint-employer relationship between the companies. Now this step is taken care of as a matter of law, making it much easier to hold both companies liable for wage or workers' comp violations.
Who is a Client Employer? Who is a Labor Contractor?
What is a "client employer"? This term is used broadly to mean any business entity that obtains workers to perform labor within its usual course of business from a labor contractor. Businesses with a workforce less than 25 workers are not covered, as well as businesses who have five or less workers supplied by a labor contractor. Public employers and motor clubs are exempted from the law, and the law also does not apply to the use of shippers or motor carriers for hauling freight, or the use of certain contracting employees by cable and satellite operators or phone companies.
Certain companies are also exempt from the definition of "labor contractor," including nonprofit community-based organizations, labor organizations and motion picture payroll services companies. Other than those exceptions, a "labor contractor" is any individual or entity that supplies a client employer with workers to perform labor within the client employer's usual course of business.
Administrative Penalties and Civil Lawsuits Await Employers and Labor Contractors in Violation of the Law
Under the new law, a worker can choose whether to file an administrative claim with the Labor Commissioner or a civil lawsuit against the labor contractor, the "client employer," or both. The law also contains an anti-retaliation provision, making it a violation of the law for either the client employer or the labor contractor to "take any adverse action against any worker for" complaining about a violation of the law or filing an administrative claim or civil suit.