San Francisco Judge Rules that GrubHub Drivers are Independent Contractors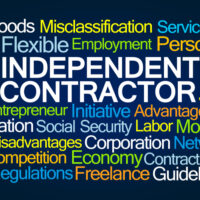 In a landmark ruling addressing the legal rights of California workers in the growing gig economy, a federal judge in San Francisco has determined that a driver for GrubHub is an independent contractor and not an employee with rights under California labor law. The ruling could have a wide-ranging impact on those working for Uber, Lyft, Postmates, or similar on-demand app-based service companies.
The ruling by US Magistrate Judge Jacqueline Scott Corley came in a case filed by former GrubHub worker Raef Lawson. Lawson filed claims against the company, which provides meal delivery from restaurants, for failure to pay minimum wage or overtime, and for failing to reimburse his business-related expenses. Judge Corley ruled that Lawson was not entitled to these rights under California law based on the fact that he was not an employee, but an independent contractor.
The ruling focused on the extent to which GrubHub exerted control over delivery drivers such as Lawson. In its effort to dismiss Lawson's claims, GrubHub's attorneys argued that its drivers are able to decide where, when, and how often to take delivery assignments—all signs that the drivers are independent. Drivers are also able to wear whatever clothing they want, and choose their own route for making deliveries. In opposition, Lawson's lawyers argued that the meal delivery company has its drivers sign up for certain shifts each week during which time they'll be available to make deliveries. The drivers are also expected to remain in certain geographic areas during that shift. While GrubHub claims in its contract with drivers that they're able to dictate their own rate for delivery services, Judge Corley noted that "this right is hypothetical rather than real. The Court finds that Mr. Lawson could not negotiate his pay in any meaningful way and therefore this fact weighs in favor of an employment relationship."
Nevertheless, Judge Corley sided with GrubHub in denying Lawson's claims. In her opinion, Judge Corley wrote, "Under California law whether an individual performing services for another is an employee or an independent contractor is an all-or-nothing proposition. If Mr. Lawson is an employee, he has rights to minimum wage, overtime, expense reimbursement, and workers compensation benefits. If he is not, he gets none." Judge Corley did note the possible troubling consequences of the decision by adding, "With the advent of the gig economy, and the creation of a low wage workforce performing low skill but highly flexible episodic jobs, the legislature may want to address this stark dichotomy. In the meantime, the court must answer the question one way or the other."
If you've been the victim of unfair treatment on the job, or if you are an employer in need of guidance on California labor and employment law, contact the seasoned and professional Bay Area employment lawyers Richard Koss and Rand Stephens for a consultation, in Antioch at 925-757-1700, or in Redwood City at 650-722-7046.