Settlement of the Uber Class Action: Bad Result for Workers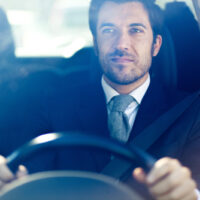 We've been reporting on the Uber lawsuit as it unfolded over the past several months, and can now provide the (sad) conclusion to the case. Uber has settled with drivers suing in California and Massachusetts in a settlement that employee advocates consider to be bad for employee rights. The settlement will resolve the drivers' misclassification claims by dividing proportionately among them up to $100 million, with a minimum of $84 million and an additional $16 million to be added if the company becomes publicly traded. Drivers who have driven around 25,000 miles for Uber can expect to receive roughly $8,000 from the settlement.
Most importantly for Uber, and most unfortunately for drivers, Uber will continue to consider its California drivers to be independent contractors. This issue was at the core of the drivers' lawsuit, and means that they continue to be ineligible for such crucial benefits as a right to be paid a minimum wage, overtime, sick leave, a right to health care for full-time employees, and automatic tax or Social Security withholding. That said, Uber agreed that it will no longer be able to fire (or "deactivate," in Uber's parlance) a driver without providing any reason for the termination. Additionally, it will create an appeals mechanism, whereby a driver can contest the reasons they were offered for the deactivation in front of a panel.
Additionally, Uber drivers will now be subject to a new mandatory arbitration agreement, replacing the agreement found invalid by the court when employees filed the current lawsuit. Drivers will no longer be able to sue in court should they feel wronged by the corporation. Additionally, Uber agreed to create driver associations, which will provide a union-like group with driver-elected leadership to bring grievances to and negotiate with Uber leadership on behalf of the drivers. But as part of the arbitration agreement, drivers will no longer be able to bring a class action (a lawsuit filed by an individual or small group acting on behalf of a large group), such as the suit that resulted in this settlement against Uber.
Prior to the settlement, Uber did not wish to make public to riders the fact that Uber drivers were not tipped through the app, and barred drivers from making this fact clear or requesting tips. Uber will now allow drivers to use signage or to otherwise notify riders that tips are not included in the fare price, but unlike competing ride-sharing app Lyft, will not facilitate tipping of drivers through the Uber app itself. Riders will need to tip in cash or complete a separate credit card transaction.
Since the lawsuit never made it to court, this settlement does not resolve the question of whether or not Uber drivers or other contractors who work for on-demand services may be deemed employees by a future case. However, it delays any sort of compensation for those who have already lost hundreds or thousands of dollars they would have earned had they been considered employees rather than independent contractors.
If you are a California employee and believe your rights have been violated by a failure to pay wages or wrongful termination, contact the knowledgeable and dedicated Richard Koss Bay Area employment lawyers for a consultation on your case, on the San Francisco peninsula at 650-722-7046, and in the East Bay at 925-757-1700.