What Legal Issues Do Unlimited Vacation Policies Present?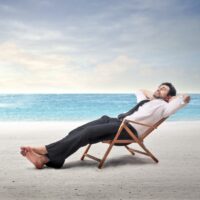 Unlimited vacation policies are growing in popularity at companies across California. Unlimited vacation policies sound ideal for employees and can make things easier for employers, but several issues can arise when those policies interact with California's employment laws. California employers transitioning to unlimited vacation days must be careful to avoid even unintentional legal pitfalls. Continue reading for a discussion of several issues presented by unlimited vacation policies, and reach out to a savvy California employment law attorney with any questions or for help with an employment-related matter.
Unlimited Vacation Days and Accrued Vacation Payouts
California's Labor Code requires employers to pay employees for the value of any accrued, unused paid vacation days if the employee is terminated. Vacation days are part of an employee's compensation, and if the employee is fired without using all of those days, the law requires the employer to pay the terminated employee for those days. Under a traditional policy, this is relatively straightforward: Employees accrue one paid vacation day every four weeks, for example, and if they are fired after six months without taking a vacation, the employer must pay them for six extra days of work.
Unlimited vacation days complicate the issue. Employers argue that vacation days do not "vest" under unlimited vacation policies, so no compensation is due at termination. Employees argue that unlimited vacation policies are really just an end-run around the requirement to pay for accrued vacation days.
The issue has not been resolved. A recent California appeals court addressed an unwritten unlimited vacation policy. In that case, the court found that, because the policy was not clearly communicated to employees, vacation pay was due at termination. The case does suggest that employers might avoid the pitfall of vacation pay at termination by having a clear, written policy that unequivocally explains that paid time off is not a form of additional wages, but is instead meant to provide flexible work hours. If the policy makes employee rights clear (as well as their obligation to schedule their own time off) and is fairly and equally implemented, employers may not need to pay out for unused vacation days at termination.
Protected Medical and Disability Leave
Unlimited vacation policies also run the risk of impacting employee rights concerning protected leave. Employees are guaranteed unpaid leave under a number of California laws such as the Family and Medical Leave Act and the California Family Rights Act. These laws require employers to treat employees equally, whether they are taking protected or unprotected leave, and allow employees to use paid time off to cover part of their protected leave.
An unlimited vacation policy raises the issue of employees using paid leave on an extended basis to cover protected leave for long-term medical issues and disability. Employers can face liability if they allow some employees to take many paid vacation days but refuse to let other employees take significant paid time off for medical or disability issues. Employers must address these issues proactively and carefully.
If you are a San Francisco employee or employer in need of advice or representation concerning contract disputes, retaliation, whistleblower protections, workplace discrimination, or other California labor law issues, contact the Richard Koss Bay Area employment law attorneys at 650-722-7046 on the San Francisco Peninsula, or 925-757-1700 in the East Bay.